Turning Inside Out – A Guide to Creating an Outdoor Space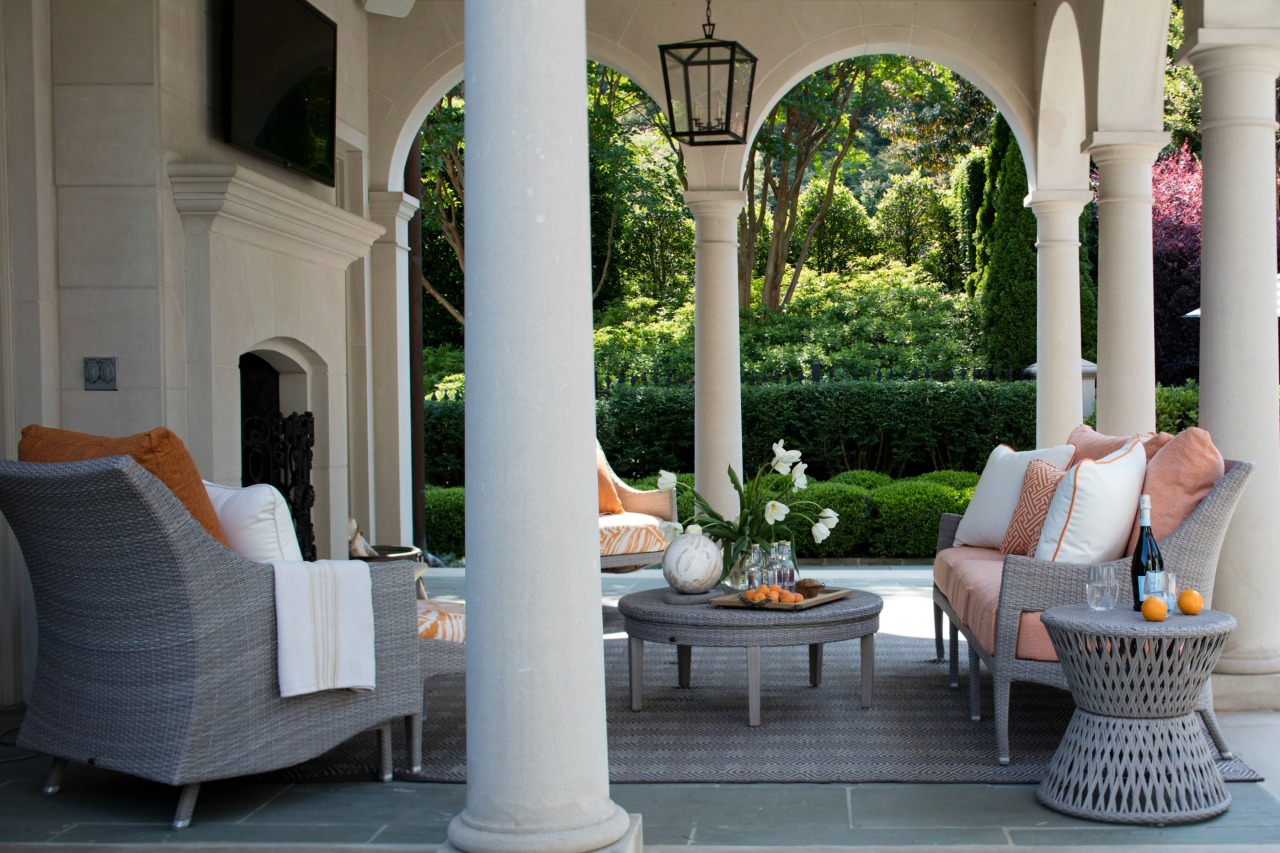 Summer Classics Athena Collection (above) hand-woven with N-dura™ Resin wicker. 
Investing in a gorgeous landscape ensures that you will have a place in which to relax, entertain, and find inspiration for many years to come. With warmer weather arriving in New Jersey, our thoughts turn to spending more time outdoors and sprucing up our backyards. To help us plan our perfect outdoor escape we turned to the experts at PAVILLION OUTDOOR FURNISHINGS in Montclair.
Pavillion guides clients through the purchase of furnishings and accessories that are home delivered and set-up by their team. From space planning to fabric selection, Pavillion attends to every aspect of their designs.
Lisa Mierop, landscape designer and owner of Pavillion, suggests the following tips for purchasing outdoor furniture:
1.)  Try It Out – Before you buy, take a seat. Some brands may look nice and stylish but may not meet your expectations for comfort. As with indoor furniture you are making an investment and will have it for years.
2.)  Measure – Just as it is with your home's interior, scale and proportion are important when designing your outside space, so make sure to measure.
3.)  Plan Your Space – Figure out what activities your family will use the furniture for most and buy accordingly. Entertain frequently? A large dining table and a sectional around a fire pit. Love the sun? Comfortable, light-weight chaise lounges for around the pool. Addicted to television? Sofas and dining furniture in a covered area where an outdoor tv can be installed.
4.)  Ease of Care – Most metal, teak, cedar, all-weather wicker will look great for years. Look for fabrics that are designed for outdoor use and resist UV rays, moisture, mildew, and staining. Regardless of the quality of fabric, cushions last much longer if they are brought inside as much as possible.
5.)  Storage – Storing your furniture in a basement or garage during the winter months will add years to its life. For those with limited space, purchase furniture that is easily taken apart or folds.
6.)  Quality – This is a must with outdoor furniture or it will not last past a season or two. Make sure to invest in a trusted brand with longevity – you will want to be able to contact them years down the road if you need replacement parts or cushions.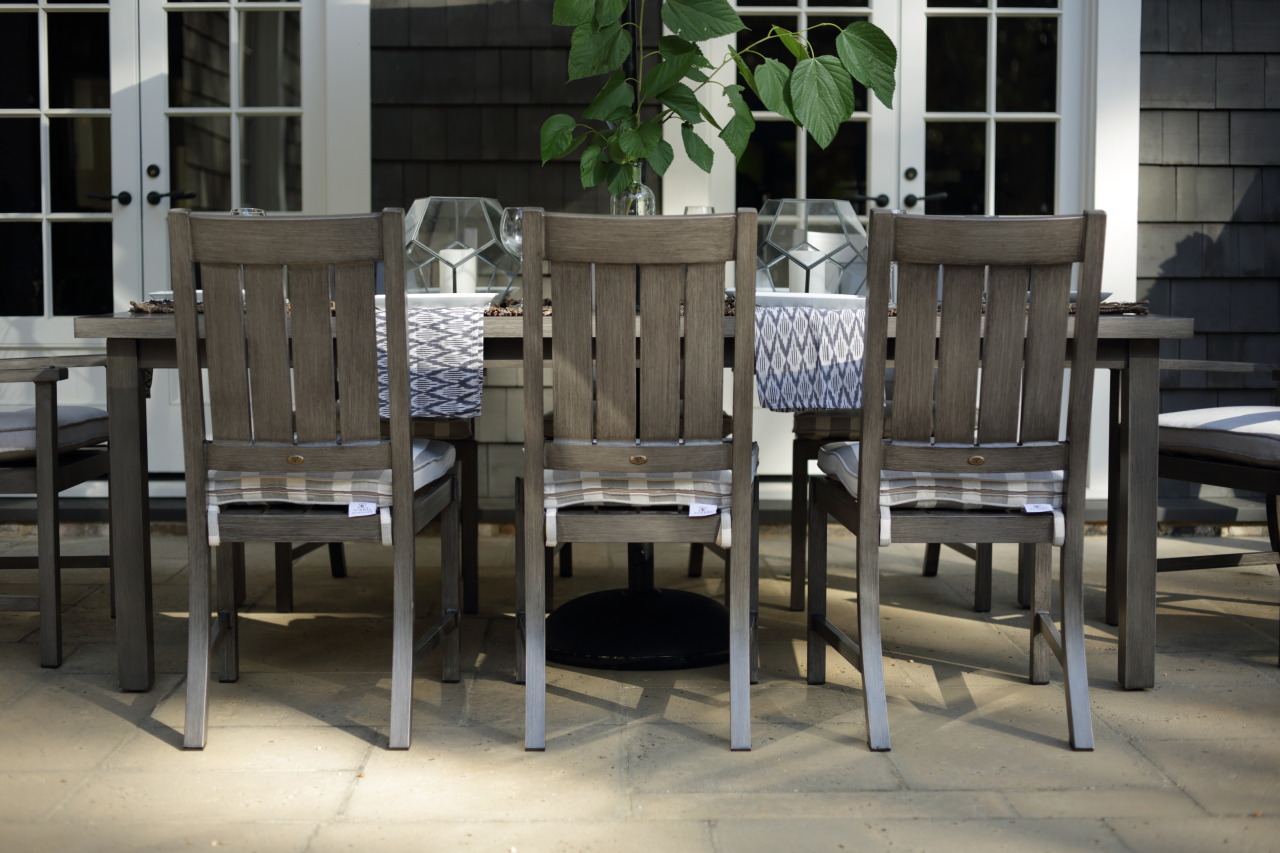 Summer Classics Club Aluminum Collection (above), durable wrought aluminum in Weathered finish.
Mierop recommends sticking with following materials when choosing your outdoor furniture to get the most our of your investment:
Wrought Iron – Fairly indestructible and weighty enough to stay grounded in windy weather – better for patios than grassy areas because of its weight – look for powder-coated, UV-resistant finishes; and a warranty on the overall structure.
Aluminum – Lightweight and doesn't rust. Look for powder-coated, UV-resistant finishes, rust-proof hardware, and seamless welds.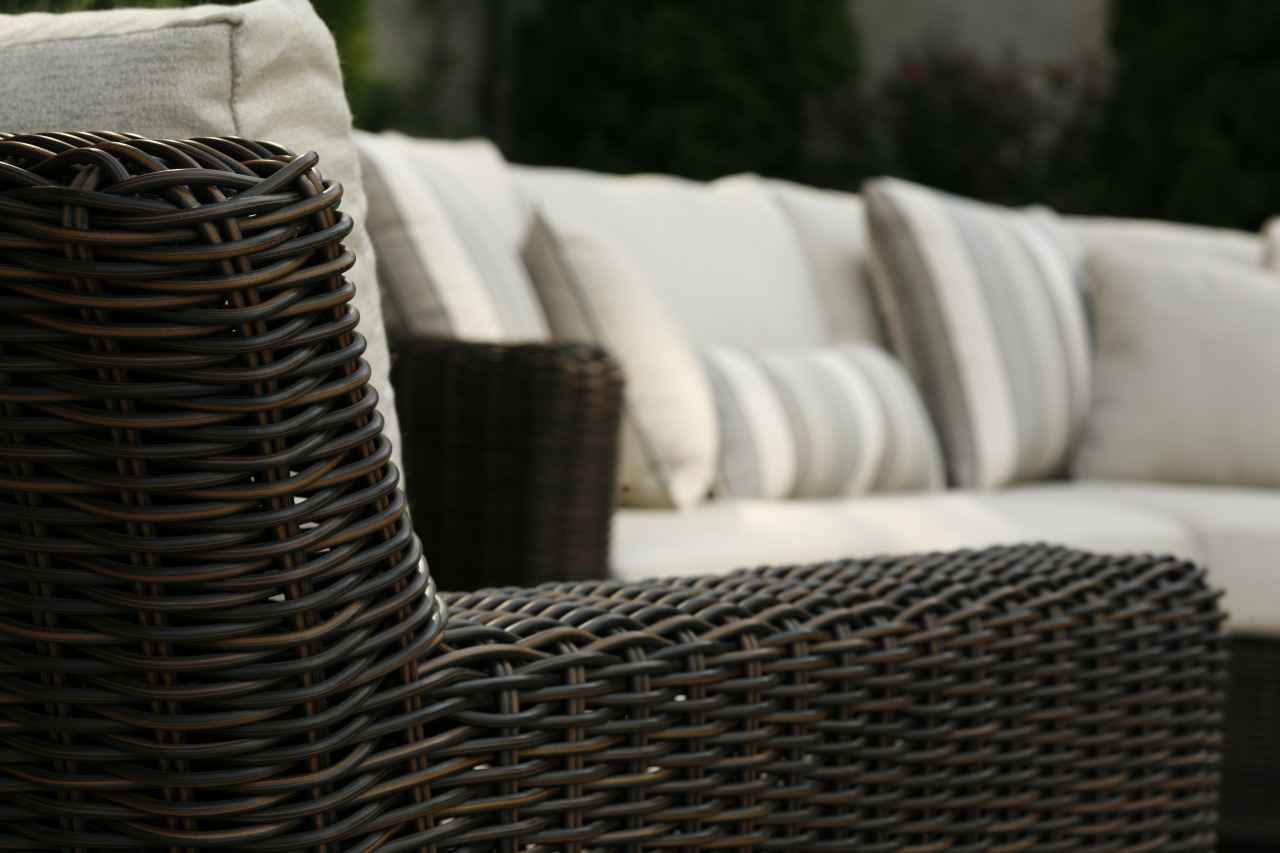 Summer Classics N-dura resin wicker in their London (above top) and Rustic (above bottom) collections.
Resin Wicker – Plant material such as cane and rattan are used to make traditional wicker furniture which is not suitable for outside use since over time it becomes brittle and cracks, and is also susceptible to insect damage. Resin wicker is a durable, weather-resistant synthetic fiber weave wrapped over a metal frame.
Recycled Plastic and Polymer – Designed to look like painted wood, it is heavy, can be left out in the elements year-round, and never needs painting or sealing. Look for UV-stabilizing pigments to reduce color fading. For beach climates great choices are durable synthetics like marine-grade polymer and plastics made from recycled milk jugs.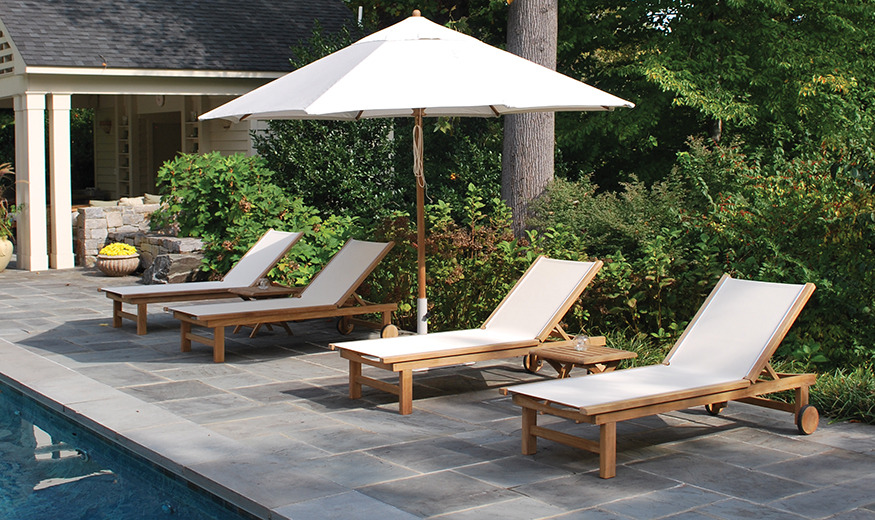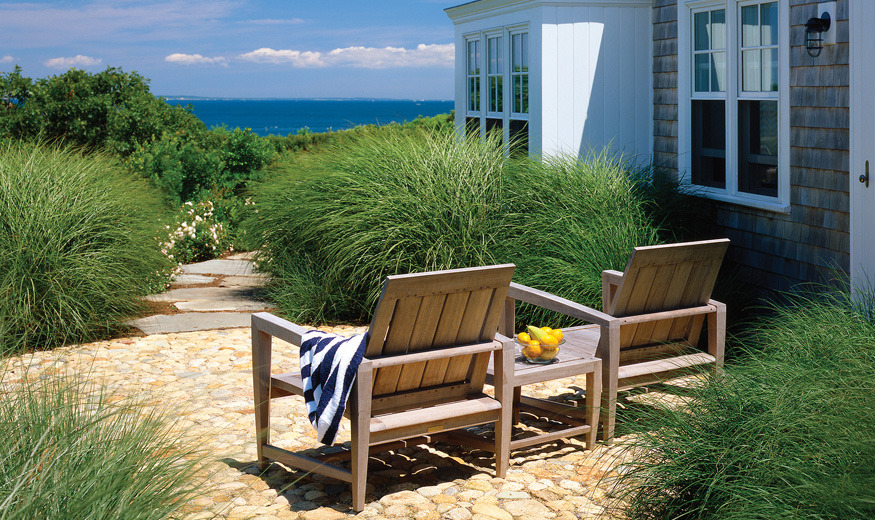 Kingsley Bate teak furniture: St. Tropez Collection (above top), Amalfi Collection (above bottom).
Wood – Know what type you are buying and how to take care of it to prevent splitting, cracking, rotting, or bug infestation. Look for denser types of wood like teak or eucalyptus – they are more durable and easier to maintain as they resist water naturally. Other varieties may need to be sealed yearly. Pine and cedar are softer woods and the least expensive, but are not recommended.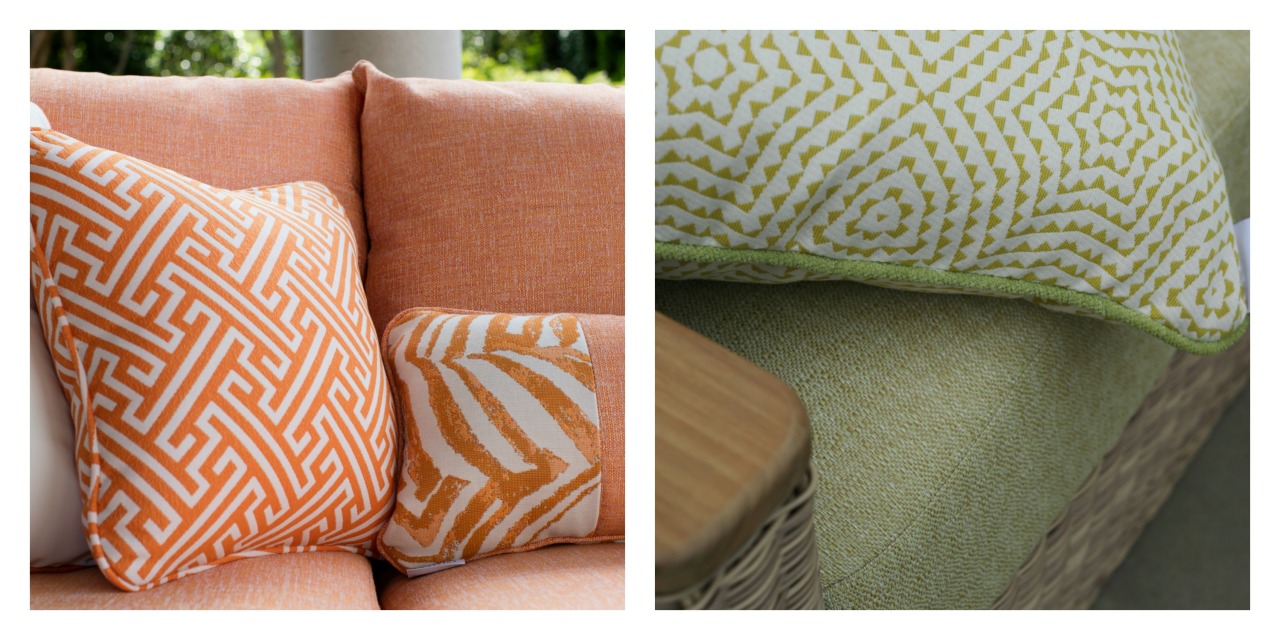 Summer Classics fabrics (above) specifically designed for outdoor use, do not rot and are fade resistant.
Fabric – For cushions and couches look for solution-dyed acrylic. It is designed for outdoor use and resists UV rays, moisture, mildew, and staining. Polyester with a UV-protective coating dries quickly and is less expensive, but isn't as resistant to fading.
Tired of replacing your outdoor furniture every few years? Again, it is important to choose a reputable manufacturer, and Pavillion takes the guess work out of that, having worked with many furniture vendors over the years. The following are a few of their recommendations:
Summer Classics is a very well-rounded line with collections that range from traditional to trendy. Their quality and styling are top of the line and many exclusive fabrics make customizing easy and fun. A special feature is their 'Dream' cushion option which is similar to having a tempurpedic layer added into deep seating cushions. Although they create new designs every year, they save patterns for every product they have ever sold, so replacement cushions are always available.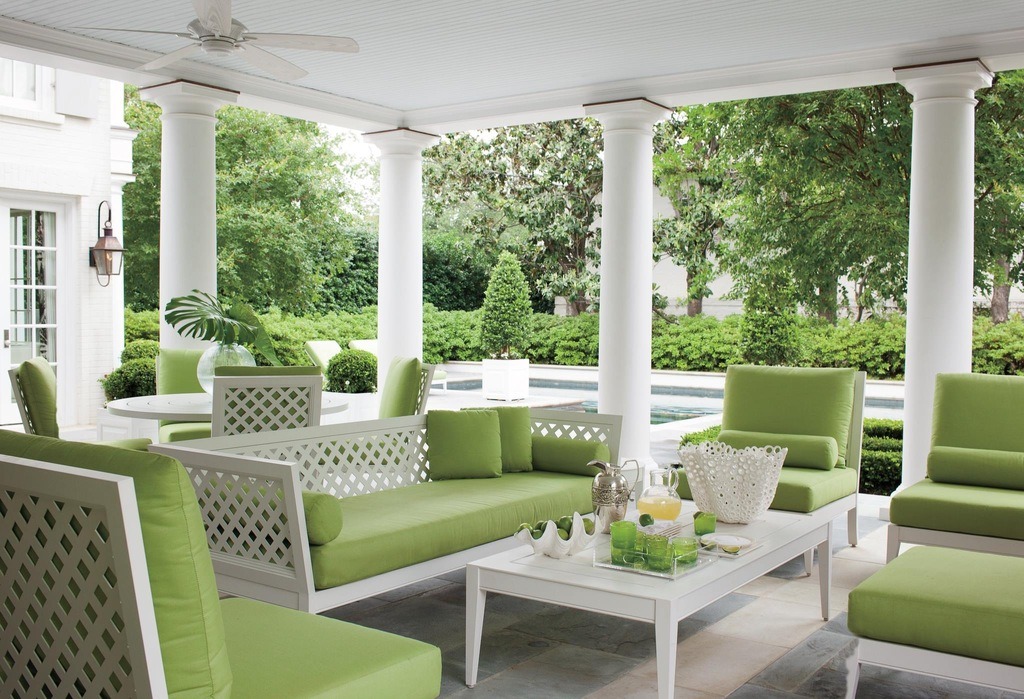 McKinnon & Harris (above, top and bottom).
McKinnon & Harris is in a class by itself. Every piece is hand made in the U.S. by devoted artists and craftsmen. The quality is second to none, and the purchasing of M&H pieces is intended as a life long investment. Bespoke color options make each project unique and personal.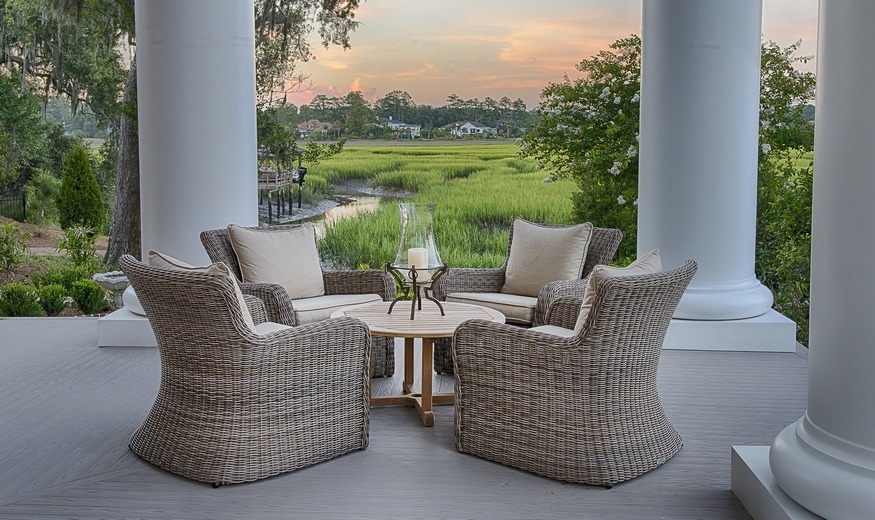 Kingsley Bate Sag Harbor Collection (above).
Kingsley Bate hits that sweet spot between great design, high quality and reasonable pricing. Their teak selections, in particular, offer optimum value at an excellent price. They easily incorporate new outdoor trends in a way that appeals to a broad range of tastes and lifestyles.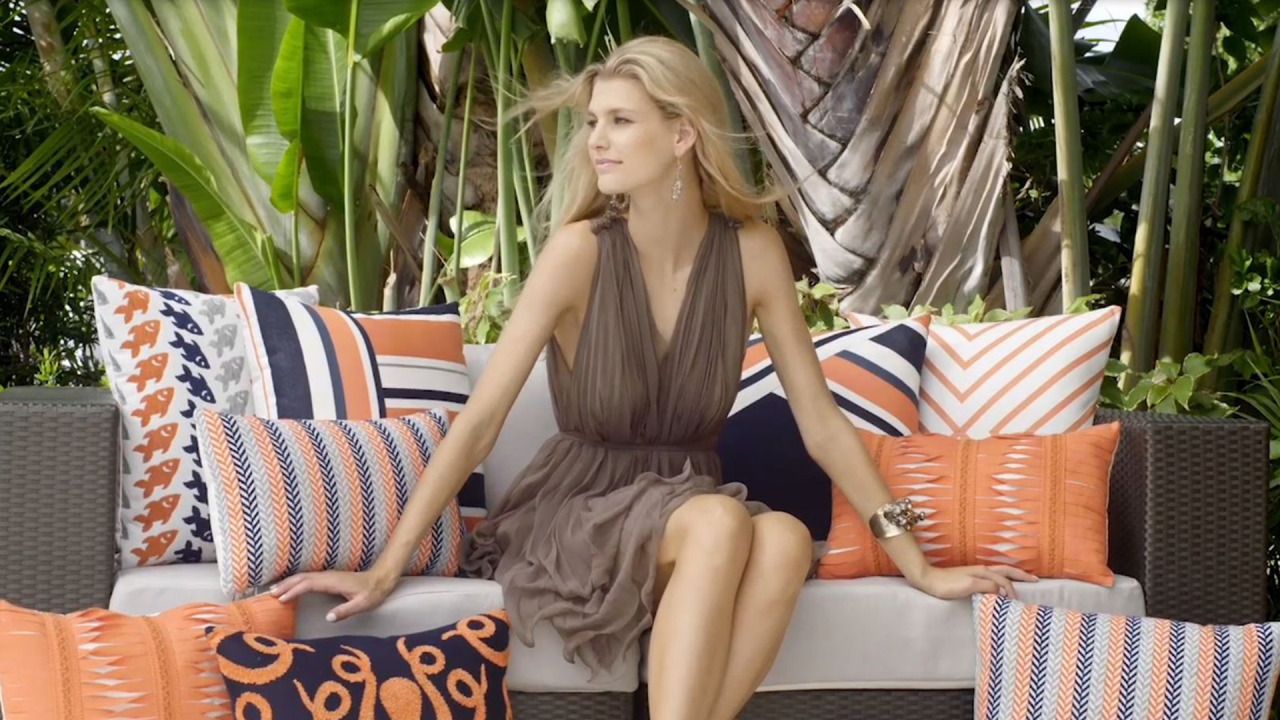 Elaine Smith Outdoor Pillows (above), are hand-crafted in the USA from soft, solution-dyed acrylic Sunbrella fabrics.
Elaine Smith's pillow line has no equals for either quality or styling. Her unique pillows are beautiful for both indoor or outdoor use. We recommend changing them seasonally to refresh your outdoor look without having to redo the entire room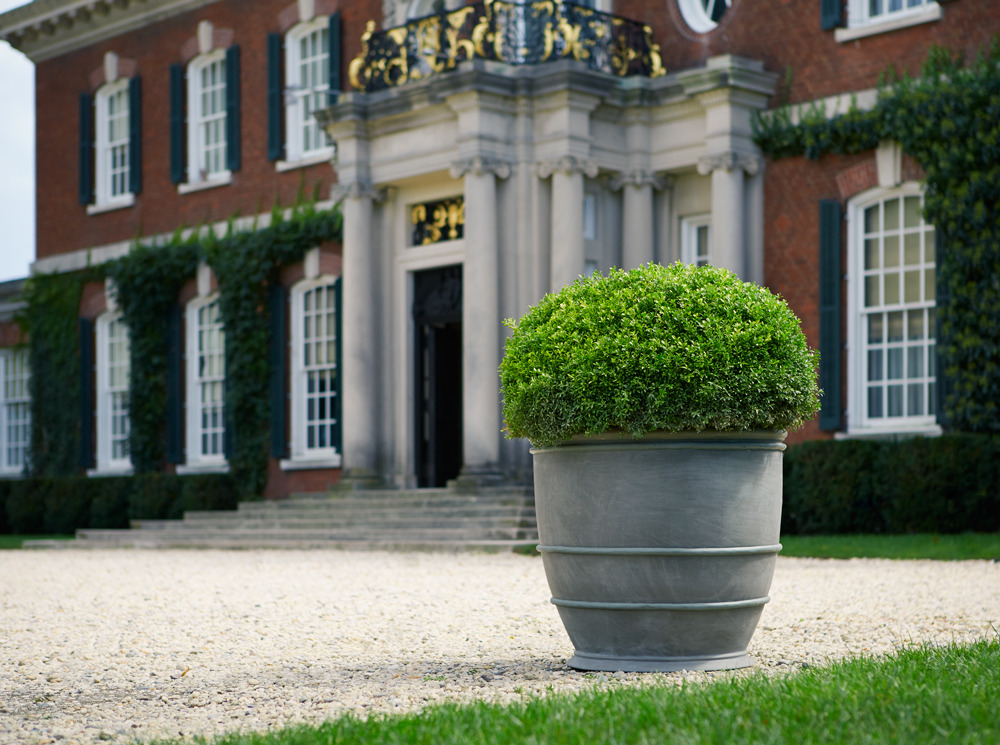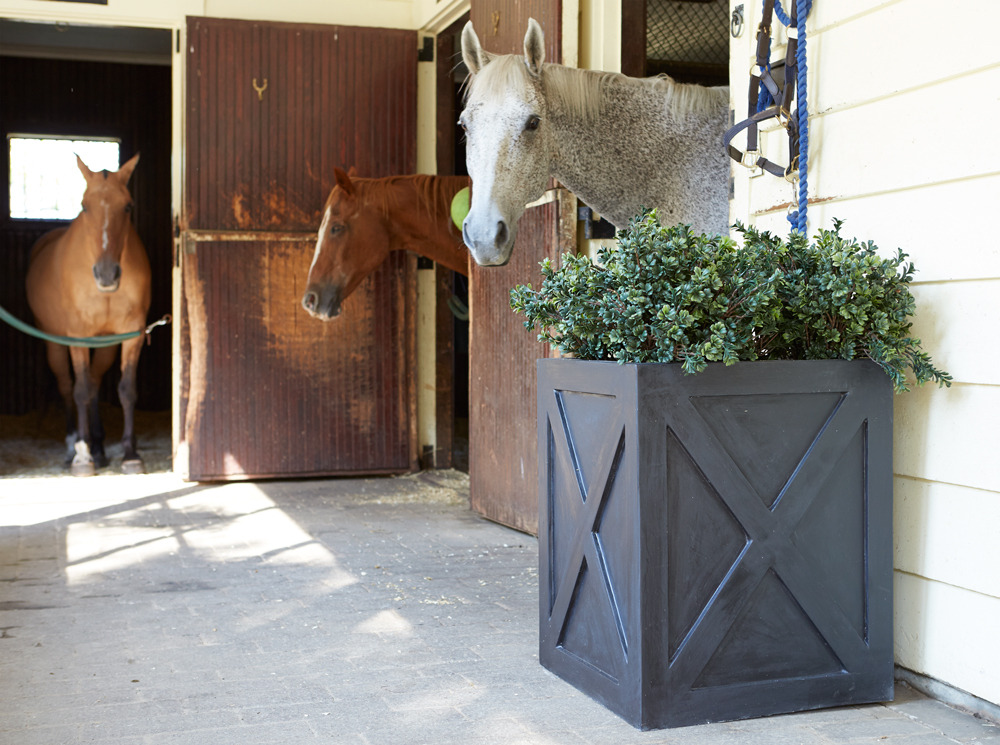 Pennoyer Newman Connical Strapped planter (above top) and Dutch planter (above bottom).
Pennoyer Newman offers exquisite garden containers and ornaments cast from originals that have graced the lawns of private estates which include names like Frick, Guggenheim and JP Morgan. The line is produced using a lightweight resin and stone dust composite that looks and feels like the originals, without the associated cost and weight. These ornaments weather like natural stone and will enhance your gardens for a lifetime of enjoyment.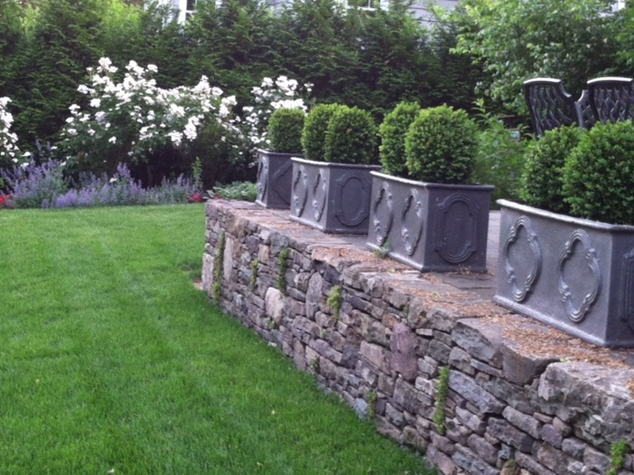 Capital Garden Hampton Planters installed by Pavillion Outdoor Furnishings for Mierop Design project (above).
Capital Garden makes a spectacular line of beautiful and well-priced outdoor garden containers, window boxes, and ornaments, all manufactured in a lightweight resin composite that is all-weather compatible. From boldly modernistic, to rustic and classical styling, Capital offers a large range of sizes, finishes and even custom paint color options making the creative possibilities endless.
Umbrosa Duospectra (above top) and Paraflex (above below) Collections
Umbrosa is a unique European umbrella line that combines ultra-sleek, contemporary styling with innovative engineering. Elegant and understated, their umbrellas go far beyond the typical styles typically seen in the U.S.
PAVILLION OUTDOOR FURNISHINGS | 120 Walnut Street | Montclair | 973.783.3100